Custom Range Hood 28
by Texas Lightsmith

Back to Range Hoods Main Menu
Vent Hood 28, Style A:
This custom range hood is available in all standard finishes and materials. Shown here with a soft distressed copper body combined with hard distressing and complimented by border #11, copper with decorative rivets and cutouts backed with an antiqued stainless steel for contrast. Customization of shape, size and border are all possibilities as well. Available for wall-mount or island applications.
Please note exact orientation of liner and accessories may vary from photographs due to size, shape or customizations. All product orders are accompanied by a detailed set of shop drawings that will provide a view of the underside as it will be when fabricated.
<
Back to Range Hoods Main Menu
Finish Options for this Fixture:


Vent Hood Borders:

Vent Hood Mechanicals: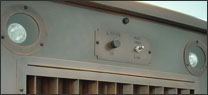 Back to Vent Hoods Main Menu