John W. Worsham III established Texas Lightsmith in 1995, and was joined by longtime friend and colleague, Trey Jones in 2001, with the mission of providing a source for excellent custom lighting, while offering the widest array of metalworking techniques to allow for unlimited design possibilities.
John has a Bachelor's degree in studio art from the University of Texas at Austin and studied intaglio printmaking as well as non-ferrous metal smithing. John went on to take classes in structural steel welding and blacksmithing and studied abroad in Florence, Italy. Trey has a Bachelor's degree in mechanical engineering from the University of Texas and has a background in machining and mechanical design. Over the years Texas Lightsmith has developed into a multi-faceted company with several specialties. Our primary business focuses on the complete production of residential range hoods, sinks, and, of course, lighting, both residential and commercial. It is not uncommon for us to produce multiple pieces for a single project that tie together through a related design theme. We offer customization of all our products.
Early on, Texas Lightsmith expanded its range beyond lighting to include sinks, range hoods, fireplace screens, chimney caps, the occasional mirror and other custom projects. Today the focus is on the lighting, hoods, and sinks, but we still take on the odd custom project every now and then.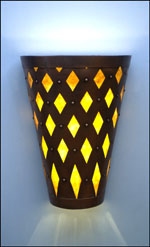 In addition to tinsmithing, standard sheet metal, and wrought iron fabrication techniques, Texas Lightsmith regularly employs weaving of metal, repoussé, punching, and hammer forming to create a diverse design base for all projects. Since its inception, Texas Lightsmith has produced thousands of custom chandeliers, wall fixtures, venthoods, hanging lanterns, fireplace screens, and other exquisite and unique items.
Keeping the work local and the quality high have been critical to our success. Texas Lightsmith does not support the outsourcing of U.S. work to underpaid foreign labor. Keeping the work in house allows us to keep close control on quality and the details essential to making custom work. All Texas Lightsmith products are handcrafted by metal smiths at the Texas Lightsmith studio in Austin, Texas. While the Texas Lightsmith standard line is ever-increasing, custom projects are welcome.
Please call, or email/Contact Us, to schedule an appointment to discuss your specific project. With lighting listed by Underwriters Laboratories, Inc., Texas Lightsmith is an excellent source for commercial as well as residential projects.