The Luminescent Series™ Farmhouse Sink…
Have you ever wanted to change the mood of your kitchen sink? Now you can!
Order a custom apron sink design or choose from several of our designs shown below.
You can easily interchange the art glass panels to suit your mood. Add a new splash of color to your space, and get festive with our Holiday Edition set!
Illuminated Art Glass Apron Sink
Redefining the world of the farmhouse sink, The Texas Lightsmith® Farmhouse Sink Luminescent Series™ features a modern back lit illuminated art glass apron with easy-to-change glass panels for continued versatility.
Practical Design
Designed with energy-efficiency in mind, the illuminated glass apron uses long-life bulbs estimated to last 30,000 hours, saving your energy budget while maintaining a small carbon footprint.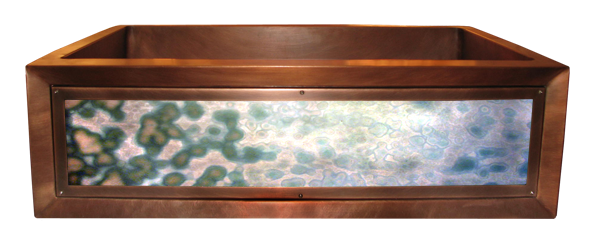 It lights up! Unique art glass is illuminated from inside; handcrafted at our studio in Austin, Texas.