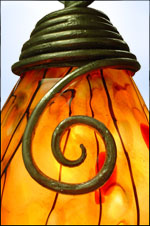 John W. Worsham III established Texas Lightsmith in 1995, and was joined by Trey Jones in 2001, with the mission of providing a competitive source for excellent lighting, while offering the widest array of metalworking techniques to allow for unlimited design possibilities.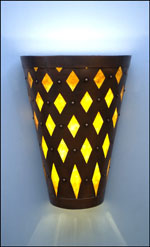 In addition to standard sheet metal and wrought iron fabrication techniques, Texas Lightsmith regularly employs weaving of metal, repoussé, etching, punching, and hammer forming to create a diverse design base for all projects. Since its inception, Texas Lightsmith has produced thousands of custom chandeliers, wall fixtures, venthoods, hanging lanterns, fireplace screens, and other exquisite and unique items. Using a wider variety of both old and new world metalworking techniques than any other light maker in the business, Texas Lightsmith can satisfy all tastes and most budgets.
All Texas Lightsmith products are handcrafted by metal smiths at the Texas Lightsmith studio in Austin, Texas. While the Texas Lightsmith standard line is ever-increasing, custom projects are welcome.
Please call, fax, Contact Us, or schedule an appointment to discuss your specific project. With lighting listed by Underwriters Laboratories, Inc., Texas Lightsmith is an excellent source for commercial as well as residential projects.